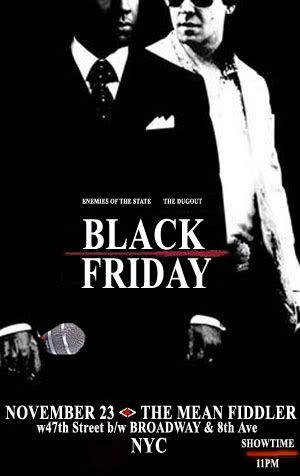 This is going to be a dope show. They're dubbing it "Black Friday". Two very ill NY crews, The Dugout and Enemies of the State.
The Mean Fiddler (W. 47th St. bet. Broadway & 8th Ave.) on November, 23rd. They'll be rocking as part of the GNYC (Going New York City) series that they have over there. Admission is $10, and they go on at 11:45 p.m. (I know, that's late; by the time we finish, it'll be "Black Saturday," lol).
Friday is already the best day of the week (ask Ice Cube and Johnny Kemp!), now that they've blackened it, I doubt it can get any better! Peace.