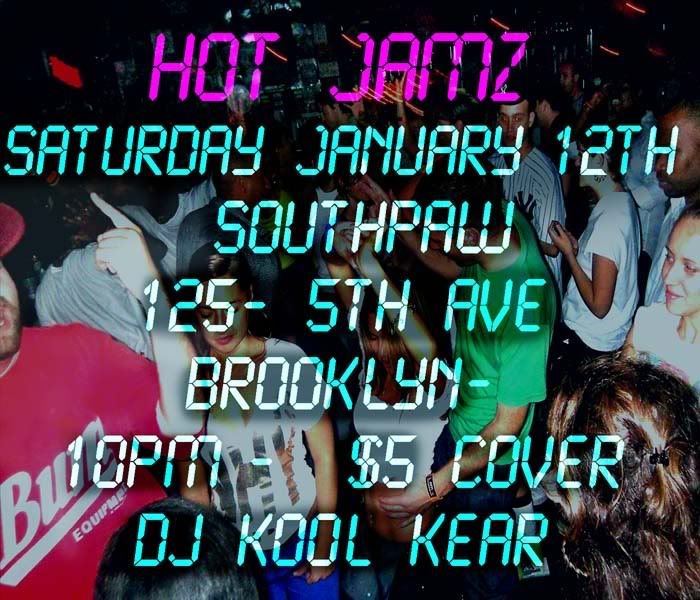 Whereas I should've spent my Saturday night working at a wack ass yuppie Manhattan bar, I wisely decided to spend my time at
Hot Jamz
, a monthly party at Brooklyn's Southpaw. It's thrown by a bunch of real hot ladies, who know even more real hot ladies.
My team was in rare form that night, having guzzled an entire bottle of Mango-flavored Cruzan Rum on the two block walk to the spot. The theme of the party was 90's music, by far my favorite. Let me run down the highlights of the night:
1.
DJ Kool Kear
: This dude is the fucking man. He spun all my joints that night. But the funniest moment of the night, by far, was when he threw on "Jungle Fever" by Stevie Wonder. I couldn't help but laugh when I looked around and saw my whole team of BMIG negus(look it up, it's a good word) impaling all the white women in our vicinity. In my defense, I did try to holla at just about every sister up in there though!
2.
"Brooklyn Queens" by 3rd Bass
: Again a nod to DJ Kool Kear. Most hip hoppers know about MC Serch, but nowadays it's mostly in reference to that White Rapper Show. I tend to remember the good days. And in those days, I fucked with this song
real
hardbody.
3.
SupaNova of The Project/New Rap Order:
My brother from another mother, I love Nova for his unforgivable honesty. You know just how he's feeling at all times by the look on his face. Like when "Juicy" and "Shook Ones Pt. 2" came on, he started a moshpit that scared all the ladies around us(mad funny, if you're part of the mosh that is). But when Kear threw on "Supermodel" by RuPaul, you could've cut glass with the stare Nov had on his grill.
4.
Shorty that allowed me to pick her up and throngst her
: Nuff said, thanks baby. I'll catch your name on the flipside. I ain't big on the one-night stand thing, but I would've taken you home and made a lady out of you. Or a dirty little whore. Either way we would both have smiled.
5.
90's music theme
: 80's parties are a bit too gay for me to fuck with, and oldies parties just don't cut it after a few hits. Aside from a dancehall bashment, this is my type of jam. Here is a list of my favorite cuts from the night:
Pump up the Jam by Technotronic
: I never listened to that joint in public back in the day for fear of being labeled a queer, but now that I'm older, I worked a nice honey to this.
Straight Outta Compton
: appropriate for all situations.
That Kid Frost joint
I don't know the name to.
Gypsy Woman by Crystal Waters
-- You better ask somebody.
Bitches Ain't Shit by The Dogg Pound
--Sorry ladies, but this shit is just too ill. If they only used their powers for good...